You don't need to have a huge yard or lots of money to install a pool in your backyard. You can enjoy the sun while lying on a custom float, or maybe you enjoy cannonballing in the deep end without worrying about annoying other swimmers and sunbathers. Backyard pools are a great investment because they improve your quality of life, enhance your home's value and increase your home's curb appeal. It's important to understand your options, different pool costs, pros and cons of different pools and the installation process before you begin. We spoke to Kim from Dolphin Pools who gave us the following insight into pool options:
Small Pools that Won't Bust the Budget
You can get most pool features and accessories in any size pool. These enhancements include heaters, automatic covers, lights, tanning ledges and Baja shelves. The basic types of in-ground pools for your backyard include concrete, fiberglass and vinyl liner pools. Concrete pools require more maintenance than other pool materials, and vinyl liner pools need the vinyl replaced approximately every 10 years. Fiberglass pools require the least maintenance, but the sizes and shapes of fiberglass pools are limited to the manufacturer's sizes.
Pros and Cons of In-ground Pools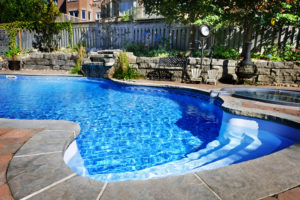 Concrete pools require a lot of maintenance, such as brushing the walls weekly to control algae. If you install a salt-water system to disinfect the pool, you should be aware that salt water de-icing can damage concrete severely. Salt can also damage vinyl liners, so it's best to choose a fiberglass pool for your saltwater pool.
Fiberglass pools are easy to maintain because the surface porosity is dense and non-porous. That means less algae damage. You'll also need fewer chemicals to treat the pool water because you don't need to penetrate the concrete and treat it with muriatic acid to lower the pH level. Concrete raises the alkalinity in your pool. Fiberglass pool shells are quick to install, highly durable and resistant to algae and other types of contamination.
Vinyl liners can be expensive to replace, but the initial cost of a vinyl-lined pool is lower than other pool options. Over the life of the pool, this option can be more expensive because the liners need replacement when damaged or worn out from regular use. The cost to replace your vinyl liner can run from $4,000 to $5,000, and tree branches, pets, patio furniture and other items that get into pools can damage the liner. On the positive side, liners can be customized, and the surface is non-abrasive. The liners resist algae growth.
Above-ground Pools for Your Backyard
Above-ground pools rank among the least expensive pool options, and they can be moved if you change homes. You can even install an above-ground pool if you're renting your property. You can find these pools at reputable pool companies, online websites and building-supply stores. The types include soft-sided pools, metal-frame pools and hard-sided pools. You can find above-ground pools in various shapes that include round, square, rectangular and proprietary shapes offered by different pool manufacturers.
There's no excuse to deny yourself the pleasure of a pool for exercise, recreation and relaxing in the sun, even in a period of social distancing. Installing a pool in your yard gives you the benefits of swimming in an environment that you can control.